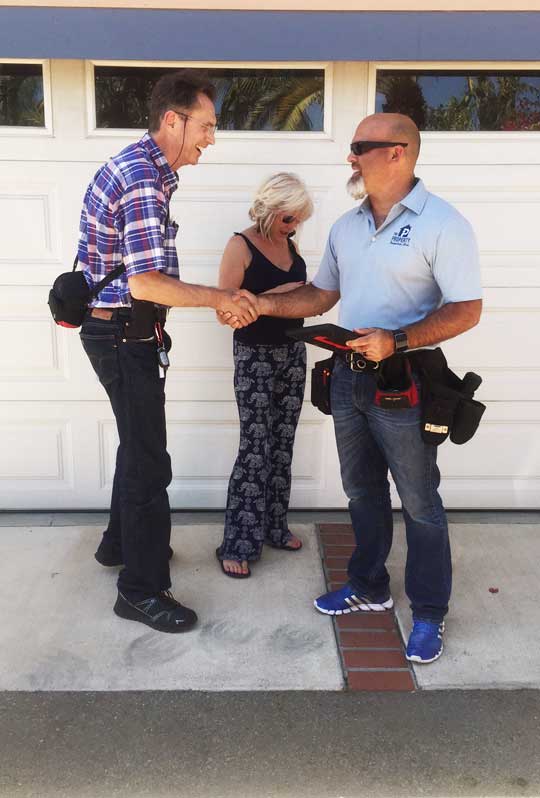 As first time home buyers, we were very pleased with The Property Inspection Pros inspection of the property. They (specifically Jeff Duncan) took the time to walk us through every aspect of the inspection – detailing areas of concern and providing us with a much deeper understanding of the property. This was extremely valuable as we prepare to take the plunge as homeowners. They are very friendly and answered all of our questions along the way!
Jeff, Tom and the staff at The Property Inspection Pros are wonderful and helped to put my clients at ease!
This is my second inspection with Jeff from The Property Inspection Pros. Jeff is always on time, thorough and has great communication skills. Jeff's report is very detailed with plenty of pictures that make it easy for me and my client's to review. At the end of the inspection Jeff takes the time to explain in detail the items of concern. My clients have been very pleased with his performance. I look forward to many more home inspections with Jeff! 10 Stars all the way!!

Thank you, Jeff for inspecting my family's future home! Prompt professional and detailed. The Property Inspection Pros are a great company that provide a knowledgeable insight of our home. They are familiar with building styles of many different homes a give piece of mind when looking to purchase.
Thanks again Jeff!!!
As a real estate agent, I truly trust Jeff and his team as my clients go to property inspector. Having gone through many inspections with Jeff alongside my clients I can guarantee you that he will be thorough, attentive and open to answering any questions that my buyers have. Most importantly, at the end of any inspection they will happily sit down with my clients and explain to them his findings and gives an overall review of what to be concerned with moving forward in the transaction.
I back Jeff 100% and know that you can trust him and his team in your next home inspection!
This is our second time using The Property Inspection Pros. Both times they have been fantastic. Thorough, detailed, efficient, and just genuinely great to work with. Jeff Duncan has inspected both of the last two properties and his insight and knowledge is abundant. He is timely and provides honest feedback through his reporting. His attention to detail is impeccable and I wouldn't trust anyone else with our inspection needs.
We recently used Jeff as our Home Inspector on a home we were buying from out of state.  He gave us great information in his written report and even walked us through it all over the phone since we couldn't be on the property for the inspection.  He was very knowledgeable and easy to understand as he explained it to us. I would highly recommend him.
Great service, professional, timely, personable and did an excellent job. Thank you Jeff.
Thank you for a very thorough and quick inspection! It was a pleasure to work with you and everyone at The Property Inspection Pros. We will definitely recommend you all to any of our friends looking for a house inspector. 

It was the perfect blend of professionalism and being personable.

Local San Diego Companies Recommend Home Inspections