Home inspections are an important part of the home buying, selling, and renovating process. Knowing what's in your walls and the condition of your equipment before selling or beginning demolition for updates can help you prepare for a costly delay or ensure peace of mind for you and your contractors. Thermal Imaging is one of the best, non-invasive ways to take a peek in to the situation. 
Thermal Imaging Basics
A thermal imaging inspection involves using a FLIR (Forward Looking Infrared) camera, Infrared Camera (IR), or videos to check the outside or inside of a property. Using temperature deviations, home inspectors can use thermal imaging to see warning signs of pests, moisture, cracks, leaks, poor insulation, and more. This inspection is no permanent fix and should be used for information gathering instead of a guaranteed cure to your problems. It's a great first step in the inspection process to help inspectors know where to start and which problem areas may need a closer look into. Thermal Imaging saves on time and billing costs for the homeowner by expediting the inquisitive process of the inspection and making the process more efficient for the inspector as well! 
Thermal Imaging And Pests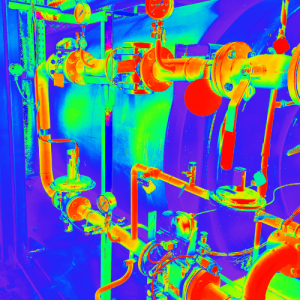 When termites invade buildings, the normal heat patterns of the walls, floors, and roofs are changed due to the presence of termites. The thermal camera records this change in heat patterns and indicates the exact location of any termite infestation. Termites are hosts to bacteria which live in their gut and aid in the digestive process of wood. This digestion and chemical reaction generates heat, leading the otherwise cold blooded pests to be easily found. If termites invade a house, in as little as six weeks, a small colony can form and considerable damage can be done as the termites eat through the timber parts of the house, making it imperative that termites are dealt with as soon as possible.
Rodents and other wildlife might create nests that can be detected, or might have damaged walls or moved insulation and created cold spots that can also be seen in thermal. Thermal imaging works in all levels of light and can be set up to detect nocturnal animals on the move for the sake of certainty. Other pests that can be detected with thermal imaging include hornets, raccoons, squirrels, birds, and more. 
Thermal Imaging And Moisture
Hidden problems can become expensive repairs when left undiscovered. A thermal imaging camera cannot "see" moisture in walls, but it can detect subtle temperature differences and patterns that reveal the existence of water. Combined with the threat of mold, standing moisture and leaks can be a hazard that will cost you more than money. Additionally, thermal imaging can detect leaks and damage in heating, cooling, and water systems. Temperature differentials are the easiest ways to detect a water pipe leaking, a broken duct raising your energy bill, or any areas of your home that are improperly insulated or protected from the elements. Moisture is one of the most difficult issues to detect in a building – the signs are subtle and easy to miss until water starts literally dripping from the ceiling.
You can do your part to ensure the highest quality of inspection. To prepare for an interior thermal scan, move furniture away from exterior walls and remove drapes so walls are clear to operate on and to help with any temperature interference from warming or cooling fabrics. Take the opportunity of milder temperatures this March and call The Property Inspection Pros for a thorough and accurate thermal inspection! We also offer comprehensive home inspections, pool and spa inspections, drain line, roof, and crawl bot crawl space inspections!