As we know here in San Diego, earthquakes arrive without notice and bring with them a lot of destruction. How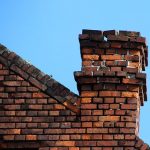 can you make sure your chimney would be safe in an earthquake? Did you know that your chimney doesn't just fall on the exterior of the home, but can also collapse in on itself, potentially causing a lot of damage and injury?
Make sure that any damage previously incurred to the chimney is quickly repaired

Check that the mortar is in good shape and repair areas that are crumbling

Look out that the chimney is not visibly coming away from the building

Make sure the chimney has sufficient bracing

It is wise not to have areas below, and around the chimney as areas where you would spend time, such as areas that children play or outside seating areas.
It is always a good idea to frequently check that your chimney is structurally sound. A certified home inspector can advise you on many of the ways you can make sure of this. Please contact us for more information