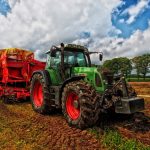 Are you purchasing a working farm? A farm is more than just a home inspection, and takes a trained eye to find the issues that could interfere with your farm's productivity.
If there is a farm house on the property, then you will obviously want a home inspection. But you will want more than just a home inspection for the rest of the farm.
Working farms have many facets that we are well equipped to inspect for you. Including barns, power to outbuildings, automated watering systems for animals, worker facilities and rooming, well testing, water purity testing, and more.
So if you need an inspection of a working farm, contact us and we will be happy to help!