It is always important to take care of the noticeable damages around your home. But what about those hidden blows? You might be thinking, "out of sight, out of mind," but the damages you cannot see may cause more problems than the ones you can. Have no fear, as with the Property Inspection Pros, we can find those unseen issues with our Infrared Thermal Imaging Inspection. Very few San Diego County inspectors are using this method, so for no additional charge, we will conduct our Infrared Thermal Imaging with every inspection.
Using a FLIR C2 Infrared Camera, two lens (one with a thermal image, one with a visual image) come together to produce a two image overlay that will create a product with much finer details compared to the typical thermal image only camera. It is important to realize that this camera will not be able to predict any future issues for your home. Any current issues that can cause even worse conditions in the future, however, can be found and will be told to the homeowner for them to decide how to handle. For example, if the thermal imaging picks up moisture intrusion in the roof during an inspection, our team can alert the homeowner of what could happen in the future. In this case, moisture intrusion can lead to severe structural damage if it is not taken care of. While it is out of our element to fix something like this, you now know the issue and can contact a contractor to fix the issue.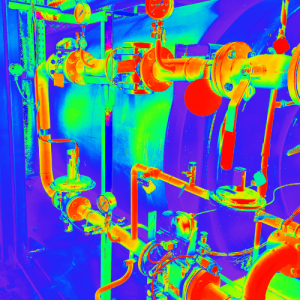 What the Thermal Camera has Found:
Plumbing/ drain line leaks

Hidden roof leaks before they cause serious damage

Missing, damaged and/or wet insulation

Water and moisture intrusion around penetrations and at the foundation and building envelope that could lead to structural damage and mold

Damaged and/or malfunctioning heating systems

Air-conditioner compressor leaks as well as improper temperature differences

Broken seals in double-paned windows

Circuit breakers in need of immediate replacement

Overloaded and undersized circuits

Overheated electrical equipment and components

Electrical faults before they cause a fire
To get in touch with The Property Inspection Pros, head over to our contact us page to give us a call or send an email. We look forward to providing you a sense of ease with inspection services that make any home feel like a safe one.